February 27, 2019 By King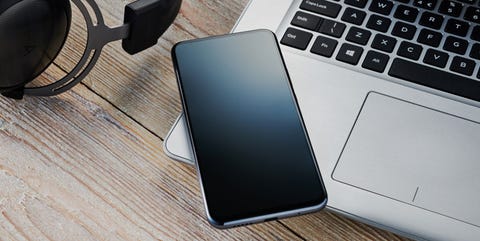 If you squirrel away old mobile phones and laptops that 'might come in useful one day', you're not alone. Apparently, 60% of Brits admit they have old handsets lying around at home, according to research by Carphone Warehouse, and a quarter of us hang on to laptops we no longer use. In fact, the average UK home harbours unused tech worth around £127. If that's inspired you to declutter your old gadgets, there are a range of options open to you. Here's everything you need to know.
Trade-in
Many retailers let you trade in old tech for money or gift cards. How much you get will depend on the age of the device and its condition, although you should still get something even if it's broken. At the time of writing, Carphone Warehouse offered us £155 cash for a working 32GB iPhone 7, while Apple (which only offers trade-ins on its own devices) offered a £159 gift card. Meanwhile, we could have got £80 from Carphone Warehouse for a Samsung Galaxy S7 with 32GB of storage space.
GHI TIP: According to Sellmymobile.com you'll get 10% more when trading in a phone if it's unlocked – in other words, if it's not restricted for use on a specific network. If you are a Pay As You Go customer or your contract has ended, contact your mobile provider to see if you can get your phone unlocked free of charge.
You can trade in old laptops, too. We were offered a £116 gift card from Apple for a mid-2012 MacBook Air with 256GB of storage, while Currys would have given us a £92 gift card.
Recycle
Recycling sites also offer cash for an old phone or laptop. However, these sites recondition gadgets wherever possible and send them to developing countries where a new smartphone is unaffordable for many people. Mazuma Mobile aims to reuse 95% of the phones it receives, while Envirofone claims to recycle 98% of the handsets it collects in some way.
Other sites like MusicMagpie and CeX will buy most of your old tech, including laptops, eReaders, MP3s and GoPros, and sell it on.
Sell
You're likely to make more money by selling your old gadgets privately, though. Around eight iPhones are sold every half an hour on eBay for an average price of £256 each, which eBay claims is £50 more than you'd get on some other sites.
Donate
If you don't need cash to put towards a new device, you might want to donate your old tech to help someone else. Initiatives such as Three's Reconnected Scheme let you donate your phone by post and will pass it on to charities to give to those in need. Three even gives recipients of the donated phones 90 days of free calls, texts and data.
Want to donate a laptop or other electrical? WeeeCharity collects working electrical goods free of charge to reduce waste. They're then recycled, refurbished and re-sold.
Delete your data first
Before you send off your device to a recycling site, sell it or donate it, there are a few steps you need to take to ensure your personal information stored on the device is completely removed.
Smartphones/tablets
First remove the SIM card and MicroSD card, if there is one. If you've got an iPhone or iPad you're probably using iCloud to store your contacts, photos, documents, emails and apps. Make sure you sign out of the storage service before you pass on the device, so the person that ends up with it can't access your information.
To do this, go to the Settings menu, select iCloud and then scroll to the bottom and tap Sign Out. Press Sign Out again when the warning message is displayed on the screen.
Now use the Factory Reset tool to remove photos, music, documents and contacts that are stored on the device, and erase Facebook, Google, Twitter and other accounts that you have signed in to.
On an iPhone or iPad, head to the Settings menu, then select General and scroll down and press Reset. From here select Erase All Content and Settings. If you're using a passcode on the phone, you'll be required to re-enter it to complete the reset.
On a Google Android smartphone or tablet, open the Settings menu and select the Backup & Reset option. From here, hit Factory Data Reset and then press Reset Phone on the screen displayed.
Laptops
Getting your laptop ready to sell isn't just a case of deleting your files and photos and logging out of your online accounts. Even deleting your cookies won't be enough, as all this information can be recovered relatively easily and could leave you – and your data – at risk. To ensure your laptop is completely safe to pass on, you'll need to remove all trace of your data from the device. Here's how…
On a Windows 10 laptop, use the Reset function. Plug the laptop in, then select the Start menu in the bottom left-hand corner. Type 'Reset this PC' in the search bar and choose the Reset option from those displayed. Now press Get Started, then select Remove Everything. On the next screen, click Remove Files and Clean the Drive. Confirm the reset in the final screen on this pop-up.
If you are using an older version of Windows, there's no reset function. Instead, download Eraser 6 which will overwrite your files several times with carefully selected patterns and ensure all data is removed from the hard drive.
For Mac users, you'll need to format the Startup Disc. Hold down the Command and R keys at the same time. From the MacOS Recovery Window that appears, select Disk Utility. Choose your device from the sidebar and then click the Erase Tab, enter the required information and click Erase.
["source=goodhousekeeping"]